Imagine the whirlwind of activity that marked the end of 2022 and the initial half of 2023. The period was characterized by the explosive emergence of ChatGPT and AI integration into search platforms. Now, things seem to have settled down, or so it appears. AI in the digital realm continues to evolve, becoming an indispensable ally to SEO, among other fields. Currently, it's clear that we're veering towards a specific course in the search industry – Google's forthcoming Search Generative Experience (SGE).  
This new development has sparked widespread discussions across the industry. What does it imply for SEO's future? How should the industry adjust? One critical observation to make is that AI-generated snippets will probably dominate a significant portion of the SERPs' fold in the future.
So, let's delve into what Google's impending SGE might mean for large eCommerce and enterprise brands. We'll explore how it could influence their SEO strategies moving forward.
Catching up with Google's SGE: What's New?
Let's refresh your memory. Google first gave us a glimpse of its new SGE at Google I/O 2023 before launching it for users on the Search Labs waitlist.
As Google revealed at their I/O announcement, the future of search results will be a blend of traditional results and AI-generated ones. As illustrated below, AI-generated responses will provide source and reference links, allowing users to keep the conversation going by asking more questions: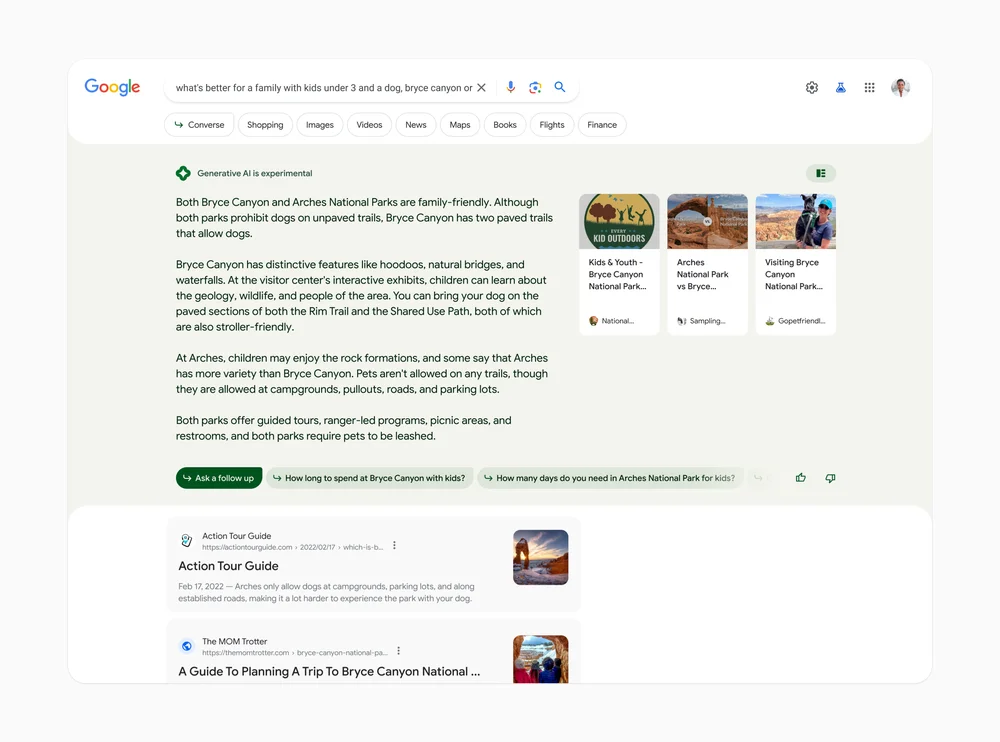 The potential impact on SEO has been a hot topic in recent weeks, but we won't delve too deep into that here. Following its debut on Search Labs, SEO experts have noted the SGE's somewhat simplistic responses and a slightly cumbersome user experience. It's clear that users will still need to supplement their searches with traditional organic results.
Even though Google has introduced the product to Search Labs waitlist users on an experimental basis, they haven't yet announced a global rollout date. But, given the buzz surrounding the new search product, we can safely predict it could be within the next 12 months, or even sooner. The product is still under development, but we might see a full launch by the year's end.
Regardless of the current precision or utility of the AI-generated responses, when the product lands, it's bound to shake up the eCommerce world. Let's dive deeper into what this could mean for your brand.
Exploring Google SGE Outcomes for eCommerce Businesses
Imagine a user on the hunt for "Bluetooth speaker for a pool party" – how does Google SGE come into play and what does it mean for the future of Search Engine Results Pages (SERP)? Let's dive into this user's search experience.
The first thing that catches our eye is the familiar carousel of sponsored ads neatly placed above everything else. Then, we see the AI-generated response, powered by Google's Shopping Graph, presenting us with fresh descriptions, reviews, ratings, and prices. Feeling curious? Click on 'show more' to expand your AI-generated search. The traditional search results, mostly listicles in this case, are conveniently displayed below. A similar search on Google's current platform shows the same sponsored ads carousel, followed by listicles and review roundups.
One aspect that stands out is that even though the featured products seem to be PLPs (product listing pages), clicking on one in the AI-generated environment takes the user to a Knowledge Panel result on the right, rather than a specific product's link.
Let's take a peek at a classic [brand] + [product] search query – say "Nike sneakers" – to get a better understanding of this experience:
There's a lot happening here, and one common feedback from the search industry is the risk of data overload.
Still, a significant portion of the page is dominated by the AI-generated carousel result ("on-trend styles" and "classic styles" in this case). Knowledge Panel results are generated with links to third-party sellers. It's only below this, that we find the relevant branded Nike category page.
The Knowledge Panel results typically showcase third-party online stores that also sell the product in question (Currys, Argos, and Amazon for Bluetooth speakers, for instance). These results tend to prioritize PDPs (product detail pages) over PLPs.
While users may feel like they're in a PLP-like environment in the AI-generated result, the third-party sites presented in the Knowledge Panel may lead to a potential drop in traffic to the brand-owned PLP pages (like JBL, Bose, Sony, and so on).
Given the detailed product info incorporated in the AI-generated search result and the subsequent Knowledge Panel journey, eCommerce brands should consider the following:
Product page optimization should be a priority to effectively compete with third-party store listings.

Implementing comprehensive Schema markup across individual PLPs could give you an edge. Think about how reviews, pricing, descriptions, and ratings are represented in the AI search snippet.

With the Knowledge Panel journey leaning more towards PDP-centric territory, PDP optimization should be a main focus for brands who don't want to lose traffic to third-party retailers.

AI-generated search results come with Merchant Center feeds. Ensure you're signed up and managing your listings effectively.
What's the mobile view like?
Imagine you're searching for a specific iPhone model using a long tail query. The search results present you with an AI-crafted snippet of detailed information about the product. Following this, you'll find a list of stores where you can purchase this iPhone:
Notice how the AI-generated result takes center stage above the fold. As you scroll further, you're introduced to more product specifics like its price and reviews. Next, you'll find a selection of retailers offering the product for sale before you come across traditional organic results leading to the actual brand's website.
The search results will of course vary based on the query, but the takeaway for brands remains the same. They need to think creatively about how they can utilize Schema markup to display rich information, all while standing toe-to-toe with third-party retailers on product description pages.
Harnessing AI for eCommerce Searching
Let's begin by acknowledging how Google is supporting site owners and content creators amidst the evolving landscape of search. Despite the significant modifications to the Search Engine Results Page (SERP) and the flood of AI-generated information, especially around commercial search terms, Google continues to emphasize the immense value of human-generated content that offers unique insights and expertise. Evidence of this can be found in Google's latest guidelines on AI content.
This is where the importance of content metrics like E-EAT comes into play, along with recent enhancements such as the Helpful Content Update. As we move forward into the era of AI-powered searching, these factors will likely be pivotal to brand success. Google will continue to lean on content creators to generate authoritative, original, and expert-driven content to inform its AI initiatives. Fortunately, it seems that link and resource attribution will be a part of the SGE SERP.
Taking a look at an earlier example, it's fascinating to observe how the carousel features of suggested products related to the term "Bluetooth speakers for a pool party" include tags that detail specific product functions or suitability, such as "good for shower" or "good for outdoors".
This type of data is probably being extracted from reviews marked up using Schema, or possibly from the text within the product description pages of the relevant brands. Regardless, it's likely that topical authority and E-EAT metrics are having a significant impact in generating these AI-driven search results.
For eCommerce brands, the need for well-crafted Product Description Pages (PDPs) and related guide content about the products (like explaining why a certain speaker is ideal for outdoor use) to enhance topical authority and the overall E-EAT score will likely be a crucial factor in Google's SGE product in the near future.
Rethink Your Search Strategy: Embrace AI-Prompted Behaviour
The evolution of user search behaviour has sparked quite a debate. A noticeable shift towards more detailed, long-tail queries is characteristic of today's search landscape. It's a change that's been significantly influenced by the surge of AI in search. Users of AI models like Bard or ChatGPT have discovered an essential truth – the more specific the prompt, the richer the response.
As users grow more comfortable interacting with AI chatbots during their search process, the trend away from short-tail keywords will likely continue. This is crucial for eCommerce owners to take into account.
In addition to your ongoing content strategy and keyword research, it's vital to stay in step with these search behaviour evolutions. How? By focusing on more specific, long-tail queries that relate to your brand and its offerings at different points in the sales funnel.
How will Google SGE Reshape the Landscape of eCommerce SEO?
The immediate observation of Google's Search Generative Experience (SGE) on the Search Engine Results Page (SERP) from an eCommerce SEO standpoint may suggest a dip in organic clicks directed to individual product URLs. However, the full scope of this new SERP experience's impact on eCommerce brands remains to be seen.
It's evident that SGE and AI-driven queries are more aligned to informational search intent (for instance, "how can I train my dog to sit?" or "what are the top beaches in Majorca"). However, it's uncertain whether SGE will cater to all eCommerce queries in the near future.
This uncertainty stems from the probable heavy resources needed to constantly update aspects like product availability, pricing, and features. Furthermore, Google will still need to safeguard its revenue stream from eCommerce keywords, which require a strong presence in search engine results.
How can you gear up for the future?
The landscape of Search Generative Experience (SGE) from an eCommerce standpoint is still evolving, with many variables left undefined. However, some trends are beginning to emerge, giving us a sense of where search is heading. We've touched on several of these throughout this article. Let's recap and break down a few key areas:
Fine-tune your E-EAT signals. In an era where AI is increasingly shaping the Search Engine Results Page (SERP), your ability to provide in-depth, original, and useful content about your products is critical. Remember, AI may not always meet user needs, especially when addressing specific pain points. Therefore, ensure your content shines when it matters most.

Audit your structured data. As we've noticed, product-related AI results in the SGE environment are packed with rich data derived from Schema markup. Keep a constant eye on this, ensuring all your descriptions, prices, reviews, and availability are current. This proactive approach will undoubtedly enhance your conversion rates within the SGE framework.

Enhance your brand visibility. Complementing your E-EAT signals, a robust, unique, and pervasive brand identity will help you hold your own in the AI-driven future. AI-generated responses can often be generic, so it's vital to maintain a consistent voice and carve out a unique space with your content.

Upgrade your existing inventories. This involves Product Listing Pages (PLPs) and, based on the current SGE trends, your Product Detail Pages (PDPs). Our observations suggest increased competition from third-party retailers on branded searches. While affiliate partnerships with these retailers can bring significant revenue, it's crucial to safeguard branded journeys to your website.